Blockchain 101
Join us for a captivating exploration into the world of blockchain technology! The Center for Digital Business is thrilled to welcome Cleve Mesidor, the esteemed Executive Director of the Blockchain Foundation and Howard Alum, as our distinguished speaker.
If you're not quite sure what blockchain is all about, don't worry – you're not alone. Think of blockchain as a highly secure digital ledger, revolutionizing the landscape of digital business. It's the technological marvel behind ensuring transparency, security, and efficiency in various industries.
Join us for this enlightening hour, during which Cleve Mesidor will demystify the intricate world of blockchain. This event is designed for everyone, whether you're new to the tech scene, a curious student, or a seasoned professional aiming to enhance your digital prowess.
Gain insights into how blockchain's impact extends across realms like financial services, payments, entrepreneurship, consumer experience, business intelligence, cybersecurity, and beyond. This is your opportunity to grasp the core concepts of blockchain and its far-reaching implications.
Don't miss out on this exceptional occasion!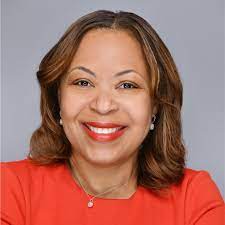 Cleve Mesidor
Executive Director | Blockchain Foundation
Cleve Mesidor is Executive Director of Blockchain Foundation, a 501c3 nonprofit leading an industry-wide crypto education campaign. Additionally, Cleve is a Forbes Contributor and a Mayoral appointee to the DC Innovation and Technology Inclusion Council. Previously, she was a Public Policy Advisor to the Blockchain Association.
A web3 expert working in crypto for over six year, she has been profiled on CNBC, ABC, NPR, PBS, NY Times, Washington Post, Politico, TIME. She was featured in the PBS Documentary, "CRYPTO DECODED", as well as, the Coinbase documentary, "COIN: A Founder's Story." Cleve is a reputable and respected industry leader and regularly headlines national tech conferences, including Money20/20, SXSW, CES, and others. On the global stage, she has spoken at Web3 and DeFi forums in Abu Dhabi, Toronto, Haiti, Amsterdam.
A Washington insider, she served in the Obama Administration and as a senior staffer in Congress. As a Presidential Appointee, she was Director of Public Affairs for the U.S. Department of Commerce's Economic Development Administration, where she advanced White House economic programs and national public-private partnerships to foster innovation and entrepreneurship. Her acumen in policy stems from her tenure on Capitol Hill as Communications Director for U.S. Representatives Betty McCollum and Barbara Lee, coordinating with Congressional leadership to launch major legislative initiatives.
Cleve is author of "THE CLEVOLUTION: My Quest for Justice in Politics & Crypto." She earned a Master of Arts degree from Howard University and started her career in broadcasting at CNN's Washington Bureau.